It's been a few years since our last Martial Artist of the Month feature, where we interview amateur and pro martial artists around the world about how they got involved in combat sports and martial arts.
For our first feature for 2021, we interview Jim Lamming.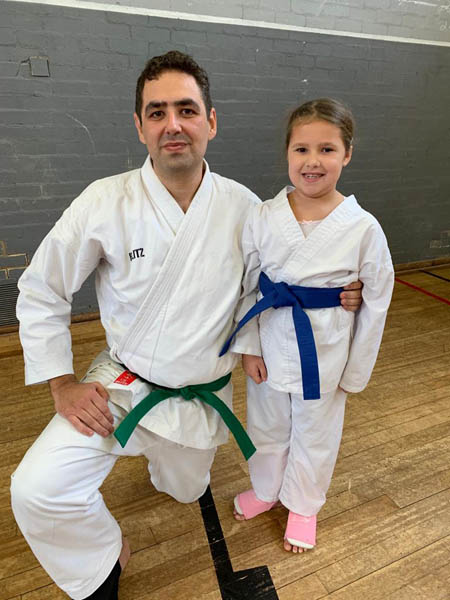 Please can you tell us a bit about yourself?
I'm a 37-year-old family man, I work in local government and in my free time I'm very much into videogames, movies and of course martial arts. I also contribute to the film blog HorrorCultFilms.co.uk, with 2021 marking my tenth year writing for the site.
How old were you when you got into martial arts and what made you want to learn?
I was 33 so started quite late. I became interested after my daughter, who was 6 at the time, had just started going to karate lessons. It was every Sunday morning, and I would be sat at the side of the class watching for 90 minutes every week. The warmups were surprisingly full on and the actual karate side of things looked cool as well. I was struggling with my weight at the time so after a few weeks of taking the kid, I thought I would sign up too, and I was hooked from then on. Since starting training, I have found it keeps me focused, fitter than any workout class I might have attended prior to that and I'm actually good at a sport!
Which martial arts are you currently studying and at which club(s)?
I am studying Karate at Atherstone Karate Club in North Warwickshire, under the Shukokai Karate Association. I'm 6th kyu green belt and was due to grade for 5th kyu blue belt literally the week the country went into lockdown, and as my grading requires full contact for sparring etc, I've been waiting ever since!
I am interested in eventually branching out, as I am keen to try my hand at either kickboxing or Muay Thai. However, I am fully focused on karate for the time being and aim to move up in the ranks before trying something new.
Have you entered any competitions or attended any demonstrations?
I am keen to compete at some stage, but I feel I need to improve on my fitness first. I enjoy kumite, and it is always my favourite part of any class, but I believe I need to grade a few more times before I am ready. Assuming I'm not too old by then!
Our club has had several guest instructors over the years and although I have not attended any demonstrations or seminars outside of that, it will be a requirement for me to do so once I reach 3rd kyu/brown belt. Were it not for lockdown, I'd be there by now.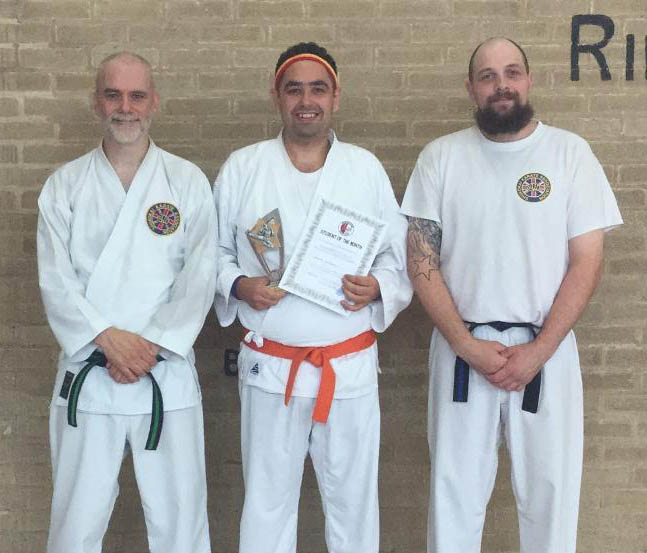 Which is your favourite weapon and why?
To use? My fists! I think I'd be more of a danger to myself if I picked up a weapon! However, there's nothing more impressive than seeing someone who knows what they're doing with nunchucks.
Which is your favourite technique?
Uchi mawashi geri (inside round kick) – I really enjoy throwing it in during a sparring session. At my level it isn't taught very much, but I've seen enough competitions on YouTube etc to practice it myself, and it often catches my sparring partner off guard, even when I get to spar with Sensei. I often find myself practising my kicking techniques around the house, much to the annoyance of everyone else, I'm sure!
Who inspires you in the martial arts world?
There are many people I can think of, and being a big movie fan there are a lot actors that spring to mind. Cynthia Rothrock, Gary Daniels, Donnie Yen and Scott Adkins to name a few. The latter has been quite motivating over lockdown with his Art of Action show on YouTube, interviewing many well-known industry professionals, and dissecting a lot of martial arts movies.
From a competitive standpoint, I enjoy watching Karate Combat and the WKF K1 Premier League. Rafael Aghayev has competed in both and I always enjoy watching him fight.
Of course, I can't forget my own Sensei's, Mark Ridler and Jason Collins. They always get the best out of me, keep me from becoming complacent and always have something new to teach. Even on an off day I will always leave a lesson wanting more.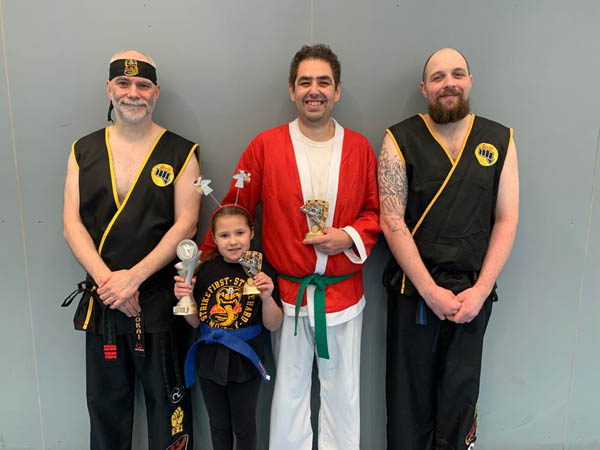 What are you most proud of in your martial arts journey?
I am always striving to improve every time I am on the mat. Every lesson, every warmup, and every grading is a fight against myself and when I was awarded a first class pass at my last grading it was a very rewarding experience. It's a grade seldom awarded within the club and to be one of few people to have achieved that was very special indeed.
In my journey, there has always been one constant, and that it's always with my daughter. It keeps us both motivated and with her being a rank above me, also adds a bit of friendly competition. With that in mind, we have often been awarded student of the month between us, and she received the student of the year award for 2019. I don't think I've been more proud.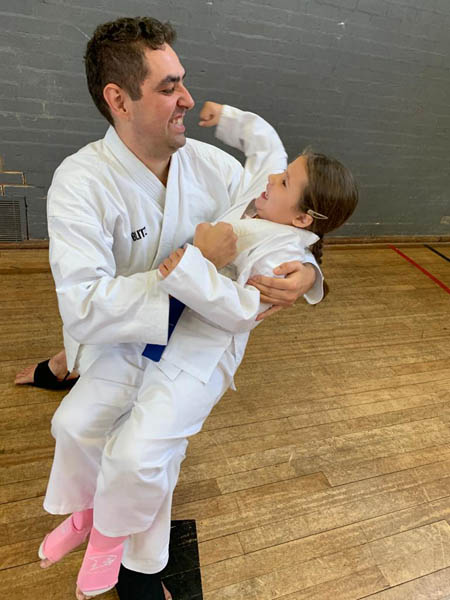 Have you any advice to give to anyone thinking of starting a martial art?
You really have nothing to lose giving it a go. The hardest part is walking through the door for your first lesson. Regardless of what level you are, there's always a great sense of belonging and achievement. And it's fun!
What's your favourite martial arts film?
I think this might be the hardest question you've asked! I've always been terrible for trying to single out a favourite film.
To name a few, I'm a big fan of Ong Bak, Sister Street Fighter: Hanging by a Thread, Chocolate, The Matrix, The Raid 2 and Ip Man. But if was to choose one it would probably be The Matrix. A great mix of martial arts and sci-fi make for a film that's just as mind blowing these days as it was on release over twenty years ago. And despite the list of action films between them, I always forget just how much Keanu Reeves and Laurence Fishburne can kick arse!
Thank you very much, Jim, for your time!
You can Follow Jim Lamming on Twitter @CherryLambrini_