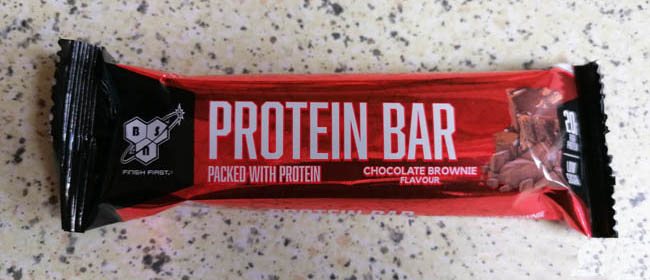 I love to try all different types of protein snacks, such is my love for all things flapjacks, bars and cookies, so on a recent trip to Home Bargains, I opted to try the BSN Protein Bar. As a fan of BSN's other supplements, I was keen to see whether their penchant for tasty, quality supplements extended to protein bars.
In this review, I'll be taking a look at the BSN Protein Bar in Chocolate Brownie flavour.
BSN Protein Bar Appearance and Taste
The BSN Protein Bar is a generous sized protein snack with packaging that boasts about the bar being packed with protein. Utilising the familiar colour of their brand and with the BSN logo at the forefront, it immediately caught my eye when purchasing as it looked that bit different from the rest of the bars on sale yet remained faithful to its own brand.
Upon opening the red foil wrapper, the chocolate flavour is evident. It smells tantalising as the chocolate scent fills your nostrils – it smells more flavoursome than most chocolate bars do!
The BSN Protein Bar is quite substantial in size, measuring 3cm in width, 10.5cm in length and with a depth of 1.7cm. It's quite a chunky bar and appears to be made to a high quality. Just looking at it out of the wrapper makes me want to sink my teeth into it which is a very good sign. First impressions count but will it hold up to the taste test?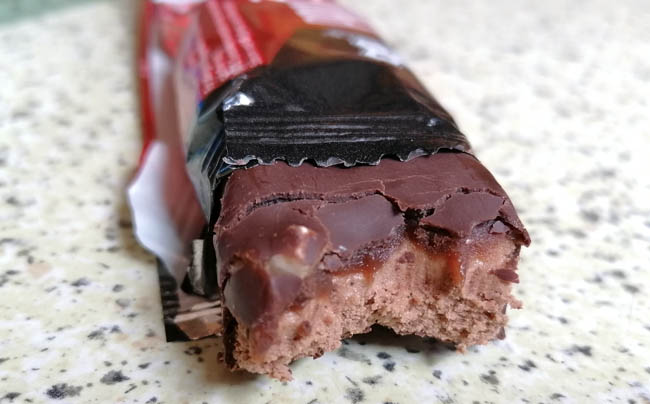 Biting into the Chocolate Brownie BSN Protein Bar is an indulgent experience. Unlike most other bars which are a bit tough, this bar is super soft, almost melt-in-your-mouth soft. The bar consists of two layers, the top a gooey chocolate and the bottom half soft and chewy, with the outer of the bar coated by a thin layer of dark chocolate. It tastes absolutely delicious. Dare I say it, I think it might be the best bar I've tried, surpassing that of the Protein Dynamix Dynabar which is no longer on the market, though this is a more indulgent, rich-tasting snack. If you're a self-confessed chocoholic, this BSN Protein Bar will absolutely tick all the boxes. It even has the odd hazelnut sprinkled upon the top layer just under the dark chocolate to give it an extra crunch.
The soft texture and full-bodied chocolate brownie flavour with a hint of caramel is overwhelmingly tasty and moreish although by the time I finished this bar, I was full. Job done!
Ingredients and Nutritional Value
The BSN Protein Bar Chocolate Brownie contains Hydrolysed Collagen, Dark Chocolate Flavour Coating (14%) (Sweeteners: Isomalt, Sucralose; Palm and Palm Kernel Oil, Fat Reduced Cocoa Powder, Emulsifiers: Soya Lecithin, E476), Chocolate Caramel Flavour Layer(Humectant: Glycerol; Maltodextrin, Oligofructose, Water, Bulking Agent: Maltitol Powder, Coconut Oil, Thickener: Modified Maize Starch; Skimmed Milk Powder, Cocoa Powder, Gelling Agent: Pectin; Acidity Regulator: Calcium Lactate; Emulisfier: Soya Lecithin; Flavourings, Salt, Thickener: Xanthan Gum; Colour: Plain Caramel), Milk Protein, Humectant (Maltitol Syrup), Humectant (Glycerol), Roasted Hazelnuts, Soya Protein Isolate, Bulking Agent (Polydextrose), Sunflower Oil, Fat Reduced Cocoa Powder, Cocoa Protein Crisp (Soya Protein Isolate, Fat Reduced Cocoa Powder, Starch), Flavourings, Salt, Antioxidant (Tocopherol- Rich Extract) and Sweetener (Sucralose).
The Chocolate Brownie flavoured variant contains soya, hazelnuts and milk. It may also contain gluten, egg, peanuts and other nuts. Anyone with any allergies to any of these should avoid consuming this bar.
Each 60g BSN Protein Bar in Chocolate Brownie flavour provides 855 kJ/204 kcal of energy and contains 20g of protein, 6.9g of fat (3.6g of which are saturates), 22g of carbohydrates (0.9 of which are sugars and 19g of which are polyols), 2.8g of fibre and 0.5g of salt. The BSN Protein bar boasts 33% protein, making it one of the top protein snacks in terms of percentage of protein.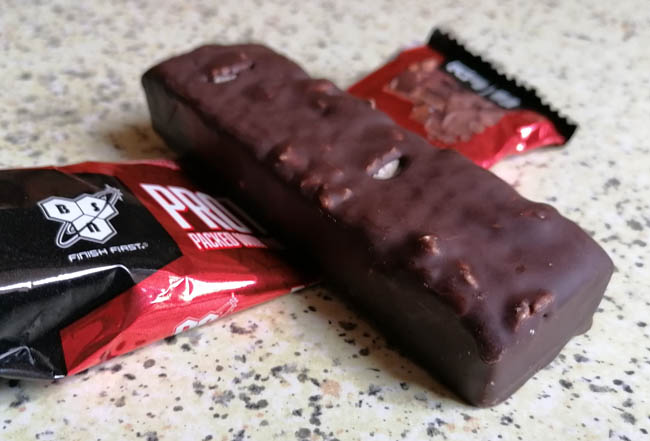 Overall Opinion
I can safely say that this bar is my firm favourite in terms of taste and texture. Combine this with the fact that a third of it is protein puts it head and shoulders above its rivals. It's tasty, it's filling and is low in sugar but, best of all, it provides a much-need protein boost when you need it most. I have zero bad things to say about this protein bar. It's substantial in every single way.
Coupled with my adoration for BSN N.O Xplode preworkout formula, BSN are quickly looking like my favourite supplement company out of the bunch!
For a handy snack mid or post training, the BSN Protein Bar absolutely does the job and more. Even a couple of hours after eating it, I was still feeling full which makes this bar the perfect protein snack.
Rating:
BSN Protein Bar is available in a number of flavours including Chocolate Brownie, Peanut Crunch and Salted Caramel.
You can purchase these bars in bulk from Bodybuilding Warehouse and also individual bars in-store at Home Bargains.