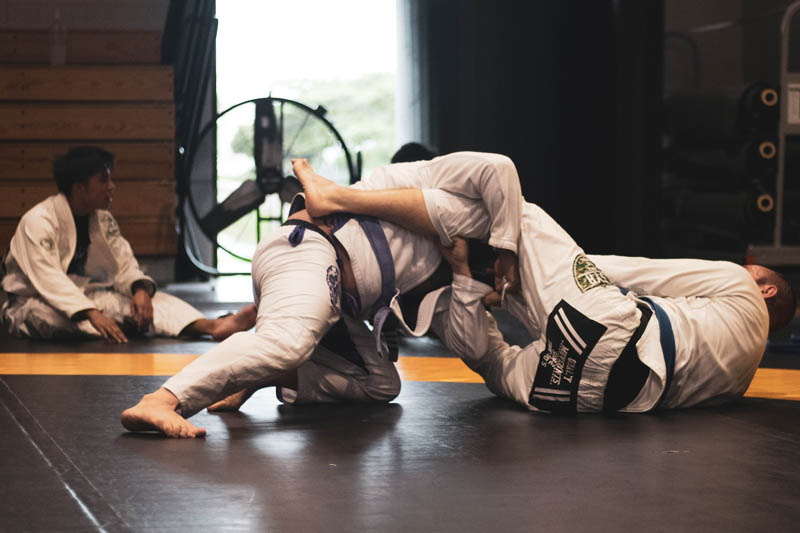 An open mat is an excellent place to improve your jiu jitsu skills and gain a better understanding of technique in a non-threatening environment with other practitioners at various grades, from lower belts to even black belt level. Whether it's to drill techniques or competitively roll without the pressure of being in actual competition, there are many benefits of open mat training sessions. It's also a great chance to meet fellow Brazilian Jiu Jitsu practitioners, socialise and gain new rolling buddies.
If you want to get good at grappling and be able to perfect the techniques you learn in class, then attending BJJ open mat sessions is an absolute must!
What is BJJ Open Mat?
Unlike BJJ classes that are centred around the professor or coach instructing the students and running a structured lesson, an open mat is a session which you can attend and drill whatever you want. Perhaps you've learnt a technique in class or from an online tutorial from BJJ Fanatics that you're struggling with and would like to work on. Or maybe you've got a jiu-jitsu competition or tournament coming up and need to drill and spar with your training partners in order to perfect your game plan. Whatever you have in mind, open mat sessions are the ideal opportunity for you to work on whatever you want with a partner. Though you might not have a teacher present instructing, higher belt grades and other students attending the open mat will often give pointers and advice if required so you're never alone!
An open mat session is also suitable for drilling certain positions so if you absolutely suck at passing guard or you're looking to work from a half guard position, you could spend time working those positions. Whatever you have in mind, the floor is yours to drill what you wish.
Can I Attend A BJJ Open Mat At A Different Gym?
Whilst I'd love to say you can attend any BJJ open mat going in your town or city, that's not always the case. Some open mats can only be attended by the club's members, whilst other BJJ gyms are quite happy to welcome students from other clubs. In fact, allowing anyone to attend the open mat training session, regardless if they belong to your club or not, is a great way of introducing new styles to discover fresh technique as well as having the opportunity to meet new people and roll with someone who's game you don't know. Put it this way, if I was running a Brazilian Jiu-Jitsu club, all would be welcome. No politics!
So, if you're looking for an open mat to attend at a club that you don't belong to, it's always important to ask the club owner or coach in advance whether it's okay to do so. By sending an email, Facebook message or simply ringing ahead, you can introduce yourself and get permission to attend rather than wasting time rocking up unannounced and just expecting to be allowed to do your own thing.
It's also worth keeping in mind that if you do turn up to an open mat at a club you don't usually attend, it's better to do so with a training partner so you know you definitely have someone to train with. If you're flying solo, then make sure to introduce yourself to others on the mat, start up a conversation, tell them a bit about your training and perhaps see if you can have a gentle roll with other people. Be aware that some people may not wish to train with strangers as they're unaware of your abilities and may not wish to succumb to any injuries in case you're the type to go into beast mode on a light roll.
What Do I Wear To A BJJ Open Mat?
Generally, it's acceptable to wear either your BJJ gi or no-gi attire, consisting of rashguard and MMA shorts, at an open mat. BJJ open mat uniform requirements are no different to your normal Jiu-Jitsu lesson, except for the fact it's not an actual lesson. If you want to drill gi techniques, bring a BJJ gi. If you want to master the no-gi technique, then a rashguard and pair of MMA shorts, grappling spats or vale tudo shorts are suitable. If you want to do a bit of both, bring both sets of clothing. You might also want to bring a pair of sliders to wear when travelling around the gym space when off the mat. Gum shields, ear guards and groin guards are optional though if you want to protect yourself from injury, then you may wish to wear them.
Can You Go To A BJJ Open Mat Just To Watch?
BJJ open mats aren't really open to spectators as it's an opportunity for students of the art to practice and drill what they've been learning. If there's anyone on the mat who's preparing for a competition, they wouldn't want any spies from rival clubs coming to assess their game. So as a general rule, I'd say no.
However, that's not to say that students who normally attend the lessons and who perhaps might be injured or unwell to train but wish to observe the open mat sessions cannot spectate. This might be a great opportunity to watch and learn from their friends or perhaps give tips and advice to their game from an outsider's perspective.
As with most things, it all depends on the circumstance but if you're not someone who regularly trains at the club in question, then no, watching an open mat session is not really acceptable. If you're looking to join the club, then watching a lesson is by far the better experience and will better reflect what the club is teaching.
Whether you are a beginner white belt just starting out on your BJJ journey, or you're an experienced practitioner looking to test out new techniques to improve your skill level, an open mat gives you the freedom to explore and grow your game.