If you're a keen a reader of this martial arts blog, then you'll know my love for protein bars. For me, they're my favourite way of intaking protein between my main meals and especially as a quick, easy-to-consume snack on the go after a training session. They combine my love of chocolate bars, cereal bars and other such snacks with the protein hit my body needs after a workout.
Whilst shopping round my local Home Bargains, I spotted they were selling the MaxiNutrition Protein Bar in Chocolate Caramel flavour so I threw one into my basket to try and review for this blog.
MaxiNutrition Protein Bar
Measuring 4 inches long, 1.5 inches wide and a depth of 0.5 inch, the 45g Chocolate Caramel MaxiNutrition Protein Bar looks and smells just like a chocolate bar. Keenly biting into it reveals four layers – chocolate, caramel, a thick layer of biscuit and then chocolate base layer.
Biting into the protein bar can be initally tough but then the piece smoothly breaks off into a gooey, chewy, chocolatey luxuriousness that tastes so good you need another bite!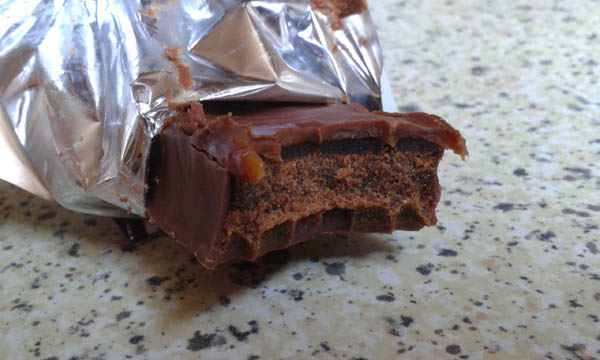 Ingredients and Nutritional Value
The MaxiNutrition Chocolate Caramel Protein Bar contains Protein Blend (Soya Protein Isolate, Milk Protein, Whey Protein Concentrate (Milk)), Humectant (Glycerol), Milk Chocolate Coverture (14%) (Sugar, Cocoa Butter, Whole Milk Powder, Cocoa Mass, Emulsifier: Soya Lecithin; flavouring), Glucose Syrup, Caramel (10%) (Sweetened Condensed Milk, Glucose Syrup, Palm and Rapeseed Oil, Sugar, Caramelised Syrup, Emulsifier (Mono and Diglycerdies of Fatty Acids), Salt, Flavouring), Water, Partially Inverted Sugar Syrup, Maltodextrin, Fat-Reduced Cocoa Powder, Oat Flour, Barley Flour, Flavour Enhancer (Sodium Bicarbonate), Flavouring, Thickener (Xanthan Gum) and Ascorbic Acid.
The bar's packaging states that it may contain egg, peanuts and nuts so those with an allergy to any of them, plus any of the ingredients above, would be better avoiding this particular bar.
Each 45g bar provides 667kJ/159 kcal or energy, 3.9g of fat (2.2g of which are saturates), 23g of carbohydrates (11g of which are sugars and 7g of which are polyols), 0.7g of fibre, 10g of protein, 0.4g of salt, 27.2mg of vitamin C. That means that 22.22% of protein is provided for each bar to help feed, repair and grow the muscles after training at the gym or a martial arts class.
Overall Opinion
Without a doubt, this Chocolate Caramel Protein Bar from MaxiNutrition is absolutely gorgeous! If it was in an ordinary confectionary wrapper, I wouldn't be able to tell the difference between it and an ordinary chocolate bar, they're that alike. It tastes so good that it would easily replace your chocolate bars and would be a better alternative too for those who train. My only qualm is the size. I found it hard to jot down notes for this review as I couldn't resist having another bite and before I realised, it was gone! Something this yummy should be a bit bigger so hungry fitness enthusiasts can feel a little fuller.
When compared to other protein snacks, this one sits near the bottom in terms of protein content. Myprotein Protein Chox and Protein Dynamix DynaBar offer much more protein content yet still retain a chocolate bar-like taste so those are worth considering too.
Rating: