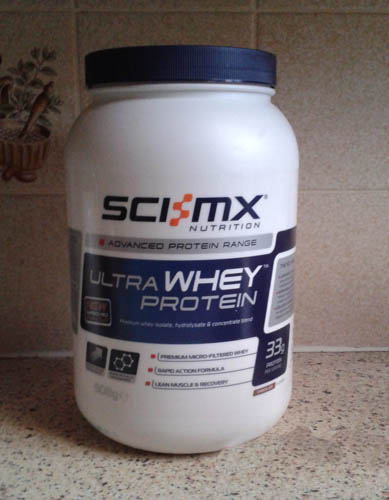 In order for our muscles to grow and repair after an intense workout at the gym or on the mat, it's important to feed our bodies the protein it requires. I'll be the first to admit my diet could be better as I don't eat as much protein rich foods as I know I should, which is why I like to get my protein fix from whey protein shakes.
In this review, I'll be taking a look at the newly released Sci-MX Ultra Whey Protein.
Appearance and Taste
With a selection of four flavours on offer, I chose Chocolate Sci-MX Ultra Whey Protein to try.
Opening the 908g tub of protein, I'm greeted by pale brown, super fine powder but it's the wholesome thick chocolate scent that hits your senses first. A recognisable chocolatey smell is always a good sign when it comes to whey protein powders, I have found.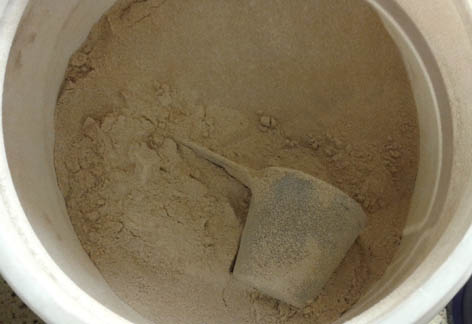 The tub's label recommends to use two heaped scoops (45g) to a shaker bottle containing 250ml of water. The 908g Sci-MX tub comes complete with its own scoop and would you believe it, it was sitting on the top of the powder when I opened it. Now that doesn't happen very often!
Whenever I prepare shakes, I always use water instead of milk and so in this case have stuck to Sci-MX's recommendations and used water as instructed.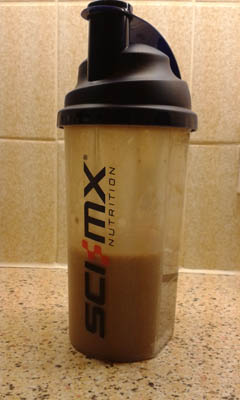 Shaking the chocolate protein powder and water mixture using the shaker bottle for about 10 seconds mixes the protein drink completely, leaving no clumps of powder stuck at the bottom of the shaker. Opening the shaker bottle lid, the scent of the drink is quite subtle and not as chocolatey as the scent of the powder on its own.
Now for the taste test!
Using 250ml of water with the 45g serving, the protein drink has a full chocolate taste. It also seems to be of a thicker consistency than some other protein powder shakes on the market, so depending on how you like it, you may want to add more water. I love the thick tasting protein shakes so Sci-MX Ultra Whey Protein is right up my street!
The chocolate protein shake is thick, boldly flavoured and very smooth to drink, without any powder left unmixed. There's no bits floating around at all and you can't taste the powder particles – it's just a smooth, fully mixed drink. It goes down a treat without any bad aftertastes or sickliness.
This protein shake is up there with the best of them in terms of taste, texture and mixibility.
Nutritional Details and Ingredients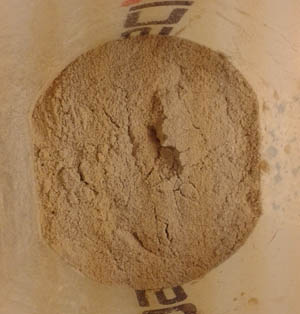 One of the most attractive aspects about Sci-MX Ultra Whey Protein is that it contains a blend of premium whey isolate, hydrolysate and concentrate to give the best of all worlds. Micro-filtered using a cold filtration process prevents any damage to the natural structure and quality of the proteins contained in the powder, so when the likes of you and I consume it, the protein delivered is of a much higher quality. The Sci-MX Ultra Whey Protein also contains high levels of BCAAs (Branched Chain Amino Acids) to prime muscles for faster growth, and is natural high in L-glutamine for optimum muscle repair and replenishment.
Per 45g serving, Sci-MX Ultra Whey Protein delivers 33g of protein, 5.7g of BCAAs (2.6g of which are leucine, 1.6g isoleucine and 1.5g valine) and 4.4g of Glutamine, all of which provides 747kJ/177kcal of energy, 2.9g fat (1.4g saturates), 5.7g of carbohydrates (of which 2.2g is sugars), 4g of fibre and 0.15g of salt. The Sci-MX protein shake delivers 73.3% protein for each serving.
The Sci-MX chocolate protein powder ingredients list includes Ultra-Whey Protein Complex (whey protein concentrate, hydrolised whey protein, whey protein isolate), glycine, cocoa powder, inulin fibre, guar gum (stabiliser), flavouring, soya lecithin (emulsifier), sodium chloride, xanthan gum (stabiliser), cellulose gum (stabiliser), sucralose (sweetener) and acesulfame potassium (sweetener).
Vegans may not find this protein supplement suitable due to the milk content, and those with allergies must be aware that although the powder does not contain any nut ingredients, there may be traces of nut and seeds as well as gluten and egg.
The shelf life of the powder is excellent, with 22 months til the expiry date of the product from when I received it.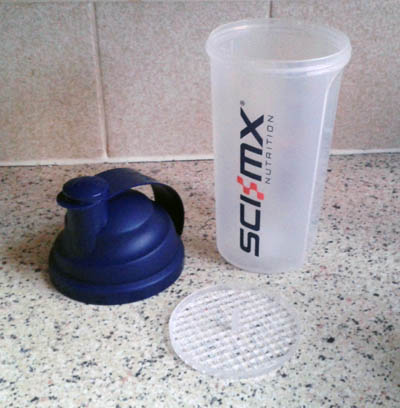 If you haven't got your own shaker bottle, you can pick up a Sci-MX one from their site. The Sci-MX shaker bottle is a branded Buchsteiner MixMaster which contains a filter-like screen to help remove lumps, a screw on top and firmly fixed flip lid. No matter how much you shake the drink, it won't leak providing you've screwed on and fastened the lid properly. They're a strong, sturdy plastic shaker and very easy to clean too which makes life much easier.
Overall Opinion
I enjoy having a protein shake after training, be it rolling at Ju-Jitsu, doing padwork or training weights at home, and I really feel the benefit when I have it versus to when I don't. Even sometimes when I'm peckish in the afternoon, I resort to a protein shake instead of having a cheeky bag of crisps or the like, especially when I'm training throughout the week. With Sci-MX Ultra Whey Protein, the extra BCAA's and the natural Glutamine, along with its blend of trio whey protein, makes this a really appealing choice. The mixibility is superb, no clumps or powder stuck at the bottom of the shaker at all, with such a smooth taste from start to finish even if you leave the shake to sit for a while before drinking it all.
The chocolate flavour Sci-MX Ultra Whey Protein is just right. It smells delicious and tastes fantastic with a wholesome, refreshing chocolatey flavour hitting your tastebuds after that training sessions. The 73% of protein is just what you need after a workout and I know my muscles will appreciate the micro-filtered whey protein to help them grow and repair.
If you're looking for a great tasting whey protein powder with top notch ingredients, then do check Sci-MX Ultra Whey Protein out.
Rating:
Find the best deal on Sci-MX Ultra Whey Protein by checking out our main site.