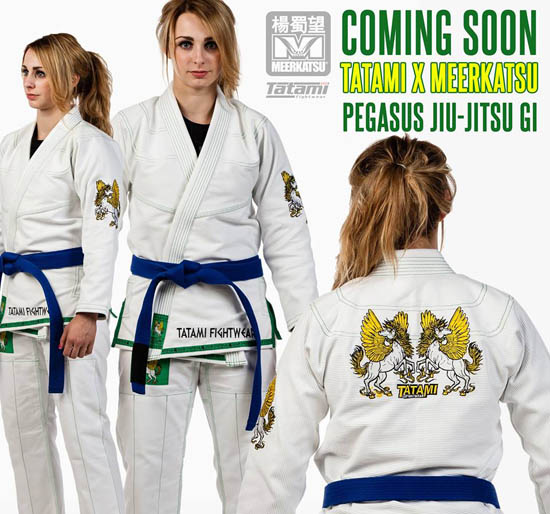 There's not many female BJJ gis out there when you compare to the unisex or male fit, but Tatami Fightwear are doing their hardest to correct that and in doing so, have collaborated yet again with BJJ illustrator Meerkatsu after he designed the Tatami Ladies Phoenix BJJ Gi that never fails to fly off the shelves.
Their new collaboration will feature a lightweight 465GSM pearl weave jacket and 10oz ripstop pants,  and will be known as the Tatami x Meerkatsu Pegasus BJJ Gi. Awesome, right?
You only need to look at the photographs above with the model wearing the gi to see the design. With the greek-style font of Tatami Fightwear at the base of the jacket and illustrations of the legendary winged stallion on the back and left sleeve, this is a reall neat jiu jitsu gi for the ladies. It just so happens to that a film of Hercules is coming out in the cinema at the end of July, starring Dwayne 'The Rock' Johnson as the titular hero. Coincidence? Probably, but nevertheless a good ol' tie in!
The Ladies Pegasus gi will be hitting the Tatami Fightwear store and it's stockists sometime in September 2014.