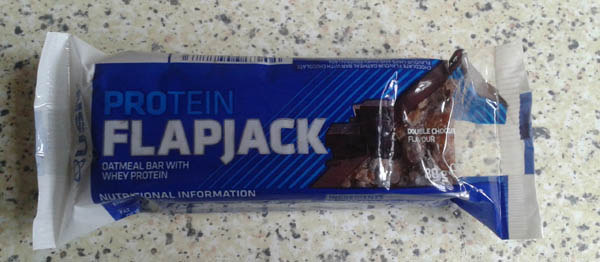 All good supplement brands have their core nutritional products which often include whey protein powders, BCAA powdesr, pre-workout powders and those tasty protein bars, cookies and flapjacks. One of the supplement world's leading brands USN is no different. As a lover of all things protein snacks due to their ease of consumption, non-mess and handy size to throw into a gym bag to nibble on during the drive home from a martial arts seminar, I decided to pick up one of USN's offerings.
In this review, I'll be taking a look at USN Protein Flapjack in Double Chocolate flavour.
USN Protein Flapjack
The USN Protein Flapjack comes sealed in a semi-transparent wrapping with the bar measuring 3.75 inches in length, 1.5″ width and 1 inch thick which is quite chunky for a protein bar. A mixture of chocolate and oats, the bar looks every bit the flapjack and has a mild chocolate scent. Looking at the bar itself, it looks like the chunky USN protein flapjack is held together by syrup with tantalising chocolate chips sitting on top of the bar.
Soft to bite into, the bar is quite moist with chocolate highlights but the oat taste is more prevalent. If you're looking for a filling snack after the gym or maybe something during a lunch break, then you'll appreciate the chewy, oaty goodness which the bar offers.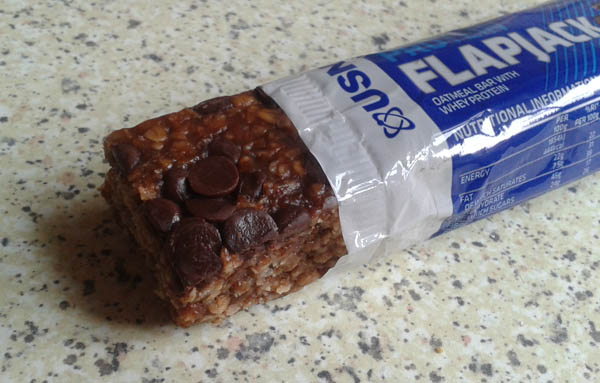 Ingredients and Nutritional Value
The USN Protein Flapjack Double Chocolate flavour contains Oats (34%), Golden syrup (partially inverted sugar syrup), Whey protein concentrate (14%) (Milk), Vegetable margarine [Palm oil, Rapeseed oil, Water, Emulsifier (Glycerol),Glucose syrup (Glucose syrup, Water, Spirit vinegar), Chocolate flavour chips (6%) (Sugar, Palm kernel, Fat reduced cocoa powder, Stabiliser (Sorbitan tristearate), Emulsifier (Soya Lecithin), Natural Flavouring), Rapeseed oil and Fat reduced cocoa powder (1%) (Cocoa beans, Acidity regulator (Potassium Carbonate)).
This flapjack bar is not suitable for those allergic to gluten containing cereals and may contain traces of wheat, barley, egg, peanuts, tree nuts and sulphur dioxide as this product was made in premises where these ingredients are used.
Each 80g bar provides 1483kJ/355kcal of energy, 17g of fat (6g of which is saturates), 36g of carbohydrates (19g of which are sugars), 3.5g of fibre, 12g of protein and 0.15g of salt. Each 80g USN Double Chocolate Protein Flapjack bar provides 15% protein.
Overall Opinion
Whilst a tasty, filling treat after a hard training session on the mats or down the gym, I felt the USN Flapjack could have had a bit more of a chocolatey taste as the oats overshadow the flavour somewhat. The low protein content is another factor which leaves me a little disappointed as a chunky bar like this deserves a higher protein content than the 15% which it offers. Whilst it's not a bad bar, I do think there are protein flapjacks out there, some of which I've reviewed, that have a better taste and higher protein content such as Bodybuilding Warehouse's delicious Premium Lux Protein Flapjack. So despite its tasty appearance, the USN Protein Flapjack bar just doesn't quite hit the mark for me on various counts though it is still a quality product in its own right.
Rating:
USN Protein Flapjacks are available from Discount Supplements in double chocolate, strawberry jam, banana and oaty flavours.