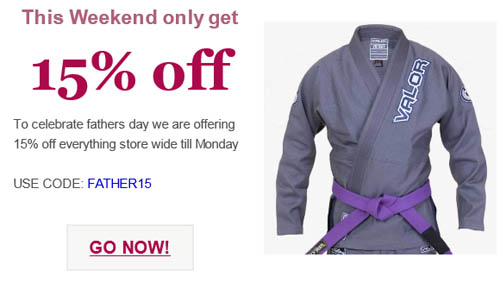 Celebrate this Father's Day weekend with Valor Fightwear's voucher code FATHER15 which will give you 15% off your order, until Monday 16th June when it expires.
Valor Fightwear have some terrific BJJ gis in stock to choose from such as the Bravura, Carioca and Elite, as well as rashguards and t-shirts, so make sure to check out their website.
A selection of their fightwear products can be seen below.
[insert_php]
$common_baseHREF = "https://www.shop4martialarts.co.uk/";
$common_path = "/var/www/vhosts/shop4martialarts.co.uk/httpdocs/";
$_GET["q"] = "gi";
require($common_path."searchExternal.php");
$_GET["merchantFilter"] = "Valor Fightwear";
[/insert_php]