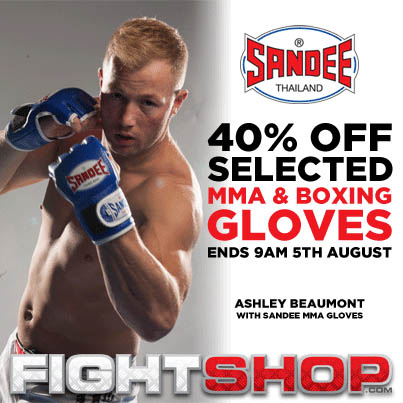 Until 9am on the 5th of August, online martial arts store FightShop are offering 40% off selected Sandee boxing gloves and MMA gloves. Take a look at the selected gloves on offer below.
The same manufacturing company in Thailand that began working with Sandee in 1977 is still behind the handcrafted training and fighting equipment. Sandee MMA Fight Gloves feature gel padding technology and durable yet soft leather casing which offer you everything: comfort, durability and the ultimate protection. The Sandee logo is embroidered on a label sitting on the adjustable Velcro wrist straps, and is printed on the back of the hand. FightShop stock sizes S – XL.
Sandee 4oz MMA Gloves – Black/White
RRP £40, NOW £24
Sandee 4oz MMA Gloves – Blue/White
RRP £40, NOW £24
Two Tone Boxing Gloves from Sandee are robust and guaranteed to have long lives, giving you outstanding value for money. The classic Sandee branding is printed on the back of the hand and embroidered on the wrist strap. The premium leather is durable and soft, offering supreme comfort, and the new multi-foam technology exclusive to Sandee products give unmatched protection for your hands. The Velcro wrist-straps adjust for the perfect fit that won't slip or move when you need security and control. Available in 6oz-16oz weights.

Sandee Two Tone Boxing Gloves – Black/Yellow
RRP £60, NOW £36

Sandee Two Tone Boxing Gloves – Blue/White
RRP £60, NOW £36

Sandee Two Tone Boxing Gloves – Red/White
RRP £60, NOW £36