Get your mitts on these Bad Boy Pro Series MMA Gloves in Black or White for just £29.99 TODAY ONLY from MMA online store DeepBlue Fightwear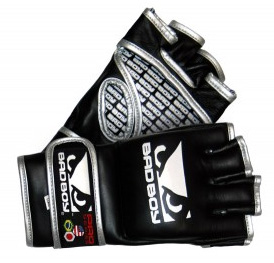 These 4oz competition weight MMA gloves are sleek and stylish with Bad Boy Logo design on the back fist and repeated Bad Boy text print lining.  The Bad Boy Pro Series MMA gloves are top quality in terms of their cowhide leather construction and finish, with high density composite padding around the knuckle and back fist area for maximum protection and confidence in multi purpose striking.
The extra thumb support provides a greater freedom of movement than the half thumb seen on other gloves and the the wrap around velcro wrist strap is adjustable to maintain support.
The gloves will revert back to their original price of £39.99 after today, so make sure you grab these Bad Boy Pro Series MMA Gloves in White or Black TODAY for £29.99 from DeepBlue Fightwear.