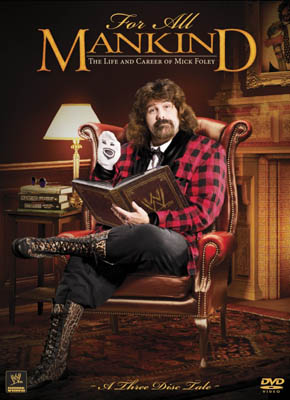 We've just received this cool news of a special giveaway offer to WWE fans in the United Kingdom!
WWE DVD are delighted to announce that the first 300 fans to pre-order Mick Foley's new DVD or Blu-ray from www.wwedvd.co.uk will receive a FREE Mr. Socko glove puppet!
Just click to pre-order FOR ALL MANKIND: THE LIFE & CAREER OF MICK FOLEY which will be released on Monday 22nd April and is timed to coincide with Mick's 'Tales From Wrestling Past UK Tour' which begins in Edinburgh on Wednesday 24th April and runs for 18 dates until Sunday 12th May.
Mr. Socko is strictly limited to 300 and is only available while stocks last!!
Details of FOR ALL MANKIND: THE LIFE & CAREER OF MICK FOLEY
Once upon a time there lived a Legend decades in the making – the one-of-a-kind tale of three personas, one sock puppet, multiple New York Times best sellers and countless bumps, bruises, scars and smiles. Now, for the first time ever, the comprehensive story of Mick Foley is presented in For All Mankind: The Lifeand Career of Mick Foley. Friends, family, peers and Mrs. Foley's baby boy himself trace his unfathomable rise to stardom. From the moment that inspired him to become a professional wrestler to his transformation into the infamous Hardcore Legend, this is his life – a truly unique story for all mankind.
The disc includes five hours of bonus matches featuring The Rock, Undertaker, Triple H, Sting, The Sandman, British Bulldogs and much more!